Visit our FACEBOOK
page and "LIKE" us!
Click here:


Be sure and share our page
with all of your Facebook
friends!
ALL ABOARD!
Welcome to the official website of THE OLD HICKORY RAILROAD!

The Old Hickory Railroad features a live steam locomotive pulling two open coaches on a 6.2 mile journey back in time through the historic town of Jackson, LA. The ride commemorates the Clinton and Port Hudson Railroad, established in 1833, including a spur into Jackson. Today The Old Hickory Railroad stands as a proud reminder of a time when railroads help connect our country and transport us from one side of the continent to the other! For years, parents, children and railfans have come to Jackson to ride THE OLD HICKORY and relive this special time in America's history!
---
View a TV News story on the restoration of our railroad!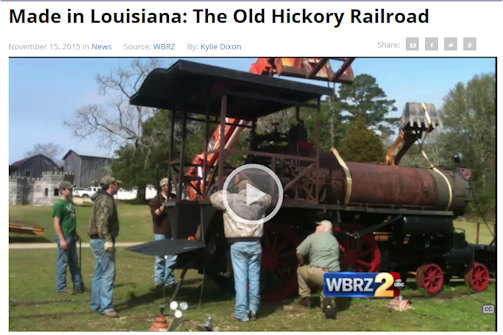 Click on the image above to view the video and read the story!
HELP US GET THE OLD HICKORY RAILROAD BACK ON TRACK BY VOLUNTEERING! CONTACT BETH DAWSON AT 225-719-1743.
---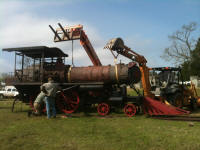 RESTORATION PHOTO ALBUM
- Newly Updated
VIEW PHOTOS OF THE ONGOING WORK IN RESTORING THE OLD HICKORY RAILROAD.
VIEW OUR UPDATED WORK SCHEDULE HERE.
---
NEWS ALERT!
Article from Felicianas newspaper "The Watchman":
"Old Hickory Railroad begins restoration project, seeks volunteers."

Click here to view the article.

---
TV STORY ON THE TRAINS AT THE MUSEUM!
Courtesy of Louisiana Public Broadcasting
WANT TO RIDE THE OLD HICKORY RAILROAD,
JUST LIKE IN THE VIDEO?
Check back with us as we'll be offering ways that you can help put the OLD HICKORY back on the right track.