Visit our new FACEBOOK
page and "LIKE" us!
Click here:


Be sure and share our page
with all of your Facebook
friends!
NEWS

News of the OLD HICKORY RAILROAD and its currently restoration process.

READ THIS RECENT ARTICLE FROM THE ST. FRANCISVILLE DEMOCRAT!
Click on the image below to enlarge and read.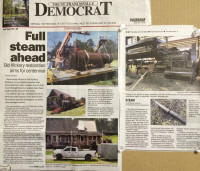 RESTORATION PHOTO ALBUM
VIEW PHOTOS OF THE ONGOING WORK IN RESTORING THE OLD HICKORY RAILROAD.
NEWSPAPER ARTICLE ON THE OLD HICKORY RESTORATION
READ A RECENT ARTICLE FROM THE FELICIANA EXPLORER ON THE RESTORATION OF THE OLD HICKORY RAILROAD.